We had a long list of places to see and things to do during our stay in Paris. Montmartre was one of the areas in the city we knew we wanted to visit. We had heard and read great things about the eclectic village that overlooks the city. It was an easy metro ride from our Airbnb to Montmartre, so we headed that way mid morning.
How We Enjoyed an Afternoon in Montmartre
We covered a lot of ground and spent the afternoon in Montmartre. A large portion of our time was spent casually walking along the cobblestone streets, enjoying the architecture and admiring pastries in bakery window cases. Those things alone would make for a lovely visit to Montmartre but we did make three noteworthy stops we'd love to share with you.
Sacré-Coeur Basilica
The Basilica of the Sacred Heart of Paris (Sacré-Cœur Basilica) is a Roman Catholic church at the tip top of Montmartre. It has been around since the late 1800's and has an interesting history. We made this our first stop after getting off the metro. Just a few blocks from the station, you'll see the church perched atop the hill with a mountain of steps you'll have to climb to get there. The crowds were intense, especially along the steps but if you're persistent, you can find openings to snap a photo without too many others in your picture. There's also a ramp on either side that seemed to have less foot traffic. Inside the church you'll find vibrant stained glass windows and impressive domes. Although the inside is remarkable, the outside just as interesting. Every angle provides a new perspective of the elegant structure.
Lovely Lunch at Le Moulin de la Galette
Navigating all those tourists and walking up and down the hills caused us to work up quite an appetite. It was right at lunch time, so we decided to stop in at a cafe for something tasty. We had picked a couple of options ahead of time but found they both were closed that day. Luckily, there's no shortage of restaurants and cafes in the area and we had no problem finding an option for lunch. Although we saw many options as we walked the streets, our minds were made up when we saw the giant windmill and inviting patio at Le Moulin de la Galette.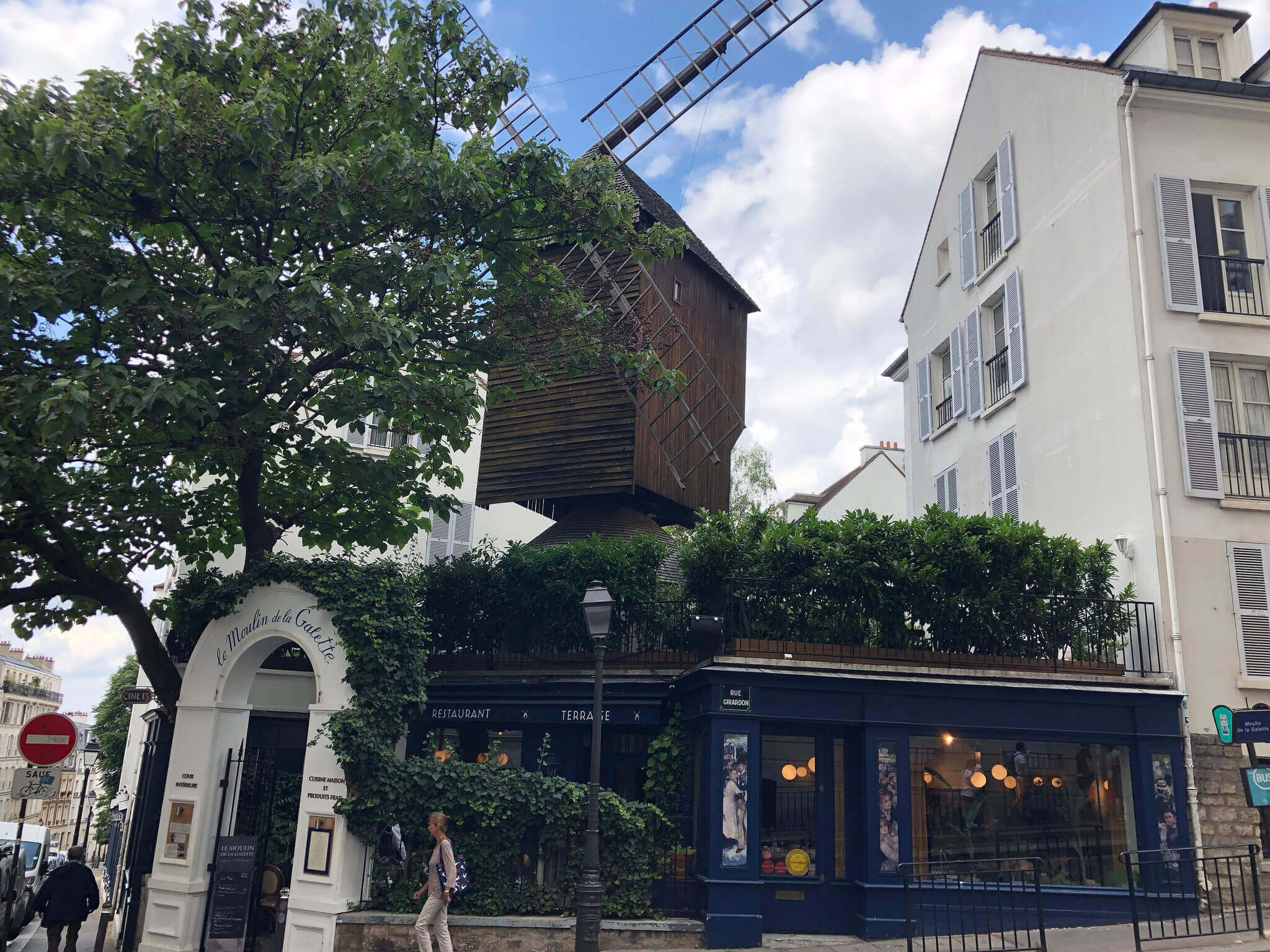 We sat outside on the patio and ordered off the lunch menu, which included a starter, main course, and dessert. I ordered the green bean salad, fish and eggplant, and macaroon. Christy got the gazpacho, chicken and potatoes, and rum cake. FYI, the rum cake was served with an entire bottle of rum to use as you wish. We had a great experience here. Both the service and food were excellent, and we both remember this as our favorite meal in Paris.
Dalí Paris
Our last major stop while in Montmartre was the Dalí Paris exhibit. We had been seeing signs throughout the day and decided it was worth a visit. Neither of us are huge Dalí fans but it's always enjoyable to see such influential art in person. The exhibit is a mixture of Dalí originals as well as creations inspired by his work. There wasn't a large crowd at all and the museum had tons of fun pieces to admire. There are also several works that can be purchased as you exit.
Have you ever visited Montmartre? What were your favorite stops?