We slept in a little but still made it up early enough to beat the morning traffic out of downtown Albuquerque. We spent the morning walking around Albuquerque looking for a diner to grab some breakfast, but came up empty handed. That's okay, the walk was fun and we thought this found this area of town to be very charming. And since we were up and at 'em early, we practically had it all to ourselves.
Since we struck out finding a diner in Old Town, we looked up something we could swing by on the way out of town. We struck it rich when we found Golden Crown Panaderia. They serve up a mean cup of coffee and their Biscochitos (Spicy New Mexican Cookies) are a real treat. Also, the owner is a great guy and loves to share his story.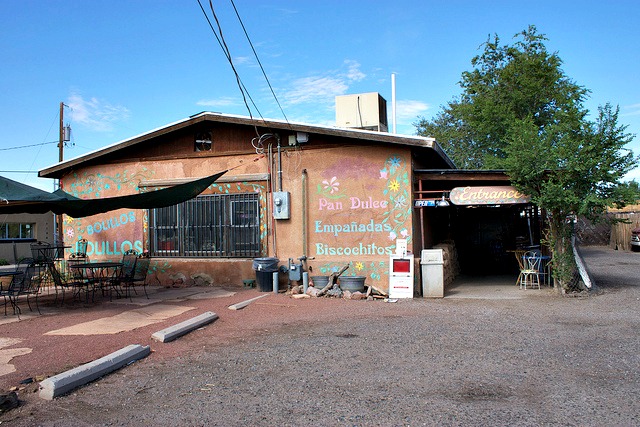 After a tasty breakfast, it was time to leave the Land of Enchantment.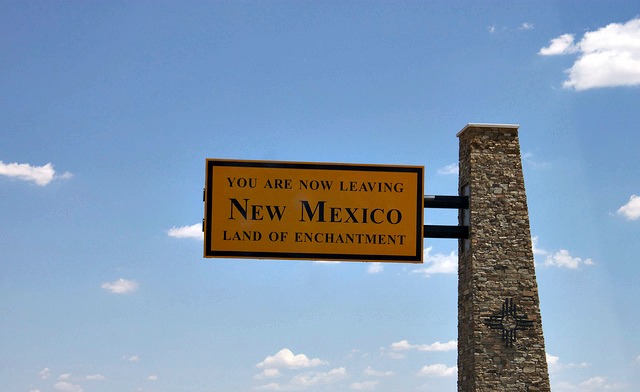 Shortly after leaving the Land of Enchantment we entered the land of feedlots. If the smell wasn't enough, the site of these poor cows was enough to make us both upset. Another reminder to eat local and know where your food comes from. You don't want to eat whatever those cows are laying in.
Along the route we made it to our next planned stop. Cadillac Ranch was something we were both looking forward to. Before you make it here, stop to pick up some spray paint so you can leave your legacy on these retired luxury tanks. Everyone is an artist here.
After a couple hours on the road, we got a hankering for a giant steak. Luckily we were still in Texas and giant steaks aren't hard to come by. We stopped in at the Big Texan in Amarillo to gorge our gullets with USDA prime beef. Okay, so we didn't try the 72 ounce steak, but we did get the full experience of this wacky steakhouse. The food is everything you'd expect from such a touristy spot (mediocre), but the decor is quite a treat. If you have the chance to visit, do it. If you have the chance to eat the giant steak, please don't!
It was hard to leave such a lovely establishment, but we had to get back on the road. After a short drive, we decided to stop off for another meal. Little did we know it would be our last supper…
Hey, at least there was wine! We said farewell to Jesus and the apostles and high-tailed it toward Oklahoma. Our pitstop with the apostles must have earned us some points because we were welcome into the OK state by a lovely little rainbow…oh yeah and we ran into Lynyrd Skynyrd at an otherwise empty rest area. Sorry, we didn't get a picture so you'll just have to believe us.