We woke up early in our comfy abode and set out on our way. First things first, we needed coffee and we needed it right away. We stopped in at a coffee hut (one of our favorite things) and were surprised by the encounter we had. Mark ordered two coffees. About one second after he was handed the drinks the barista said (in a particularly cheerful voice), "HOW'S YOUR CUP?" Mark had no idea what that meant and ask the gal what she was talking about. A bit deflated, she quietly spoke "How's your coffee?" Apparently "cup" means coffee and apparently Mark hurt that poor girl's feelings.
We stopped off for breakfast in Salina, UT at Mom's Cafe. It wasn't anything special (and coffee was pretty terrible), but the service was good and we were glad to have some omelettes in our bellies. Oh, and like a good deal of restaurants in Utah, the tables were provided with Mormon joke books…yeah, that's a thing.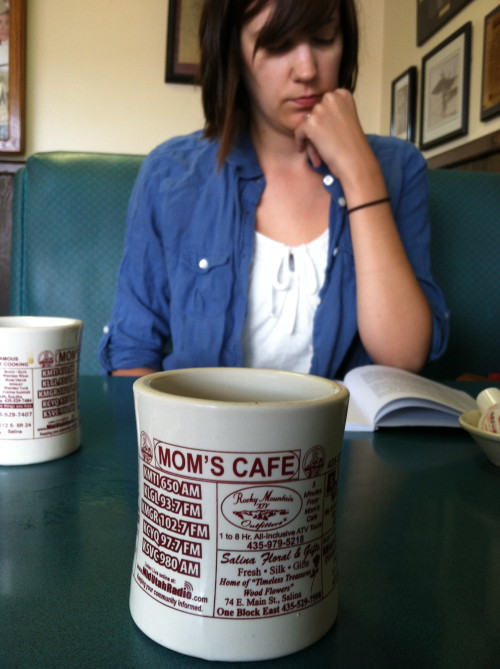 It wasn't long before we crossed the Colorado state line. See, we have a picture to prove it.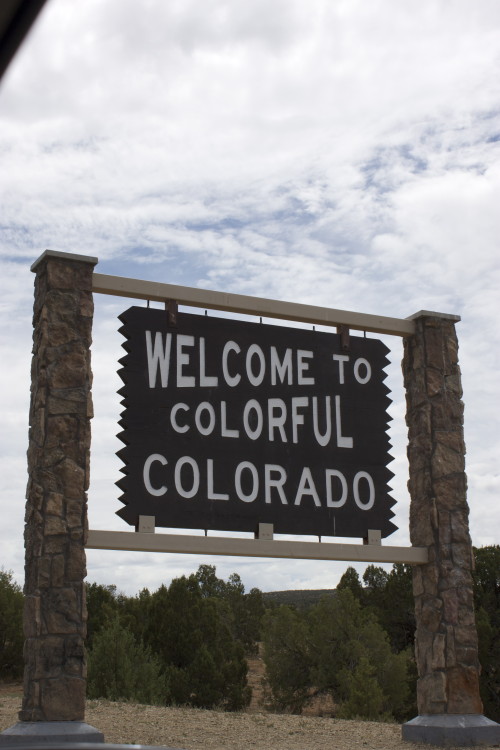 Our first major stop of the day was at the Colorado National Monument. It's a rapid and steep climb as soon as you enter and within minutes you end up at a pull off with one hell of a view.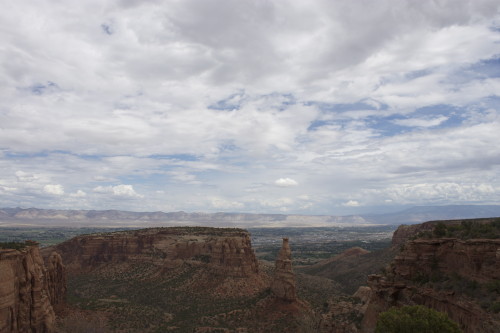 We look pretty cute, right? Except for Mark's particularly bad haircut that looks a lot like a toupee in this photo.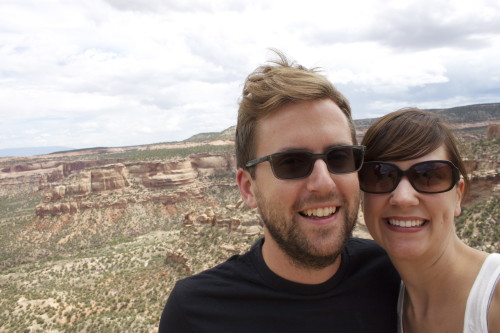 Still no bears.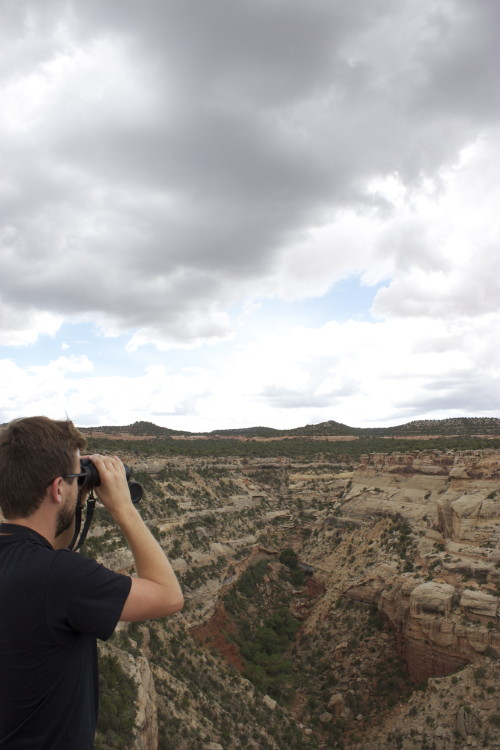 It's always fun to visit a new national park. We didn't know much about Black Canyon of the Gunnison and we were ready to see what it is all about.
As soon as we entered Mark started scouting for bears. Nothing.
No bears, but we did hit a lot of pull outs with nice views of the black canyon. It's incredibly deep and these photos don't do much to show you how vast it is. They're still pretty fun to look at though.
After checking out the upper rim drive of the black canyon we decided to cruise down the East Portal Road to check out the diversion dam. It was a curvy and steep road that led us to a nice view of the canyon from the canyon floor. We even lucked out and spotted a rainbow along the way!
As we headed back up East Portal Road and back to the top of the canyon, the rainbow only seemed to intensify.
We headed out of the park in search of some sleeping quarters for the night and ended up in Montrose, CO at the KOA. The tent sites were pretty much just a patch of grass behind the RV lot and we weren't able to have a fire or use a grill, which was kind of a bummer but we made the best of it. We went out for a nice dinner at the Camp Robber and did laundry late into the evening. It was a good night.