We woke up refreshed and ready to get boot-scootin' toward Rocky Mountain National Park. This is one park we had both been dying to visit. We quickly realized we didn't have to wait for the park to start our adventure. The drive was full of twist and turns, wildlife, and coal-carrying cabooses.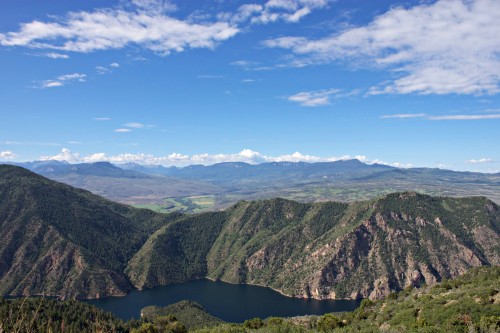 And then we made it. John Denver was being pumped out of the loudspeakers as we posed for our pictures at the entrance to Rocky Mountain National Park. The world stopped as we sang along. We spotted a moose as soon as we entered and even he (or she) was humming that diddy about the rockies. Yes, moose can hum.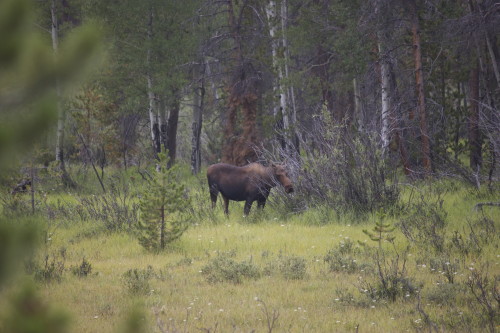 Later on down the road we saw a crowd of folks gathered near a marsh. We drove over to see what was up and realized there were three more moose just trolling around the water. From what we know, it's pretty rare to see moose in this park, so we considered ourselves lucky for spotting four so quickly.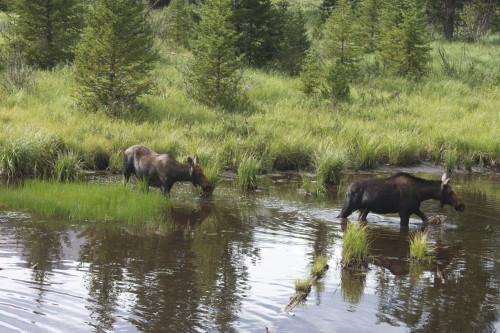 Aren't these little guys adorable?!
Moose aren't the only animals playing in this park. We spotted elk shortly after entering the park too. With a landscape like this, what animal wouldn't love to make it their home.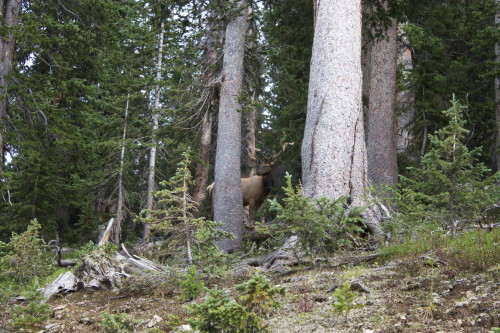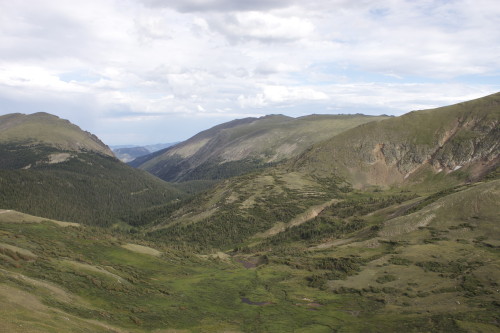 We climbed up, up, and away higher into the rockies. The temperature fell, the air thinned, and our excitement kept on growing! Everywhere we looked was another panoramic view of this mountainous wonderland.
Up in the tundra the elk rule the roost. We must have seen a hundred of these guys munching on grass and greens.
As we made our way to the other side of the park we decided to take the Bear Lake Road just to see if it lived up to its name. Sadly, still no bears. 🙁 We did do a short hike to the water and Mark got a chance to stand on a rock. He loves to do that.
We left the park and booked a cabin at the Estes Park KOA. After unloading our goods we went out to pick up some grilling food and a few adult beverages. Salmon, steak, and craft beer in a Rocky Mountain cabin. Oh and the summer Olympics were on! Life just doesn't get any better than that.