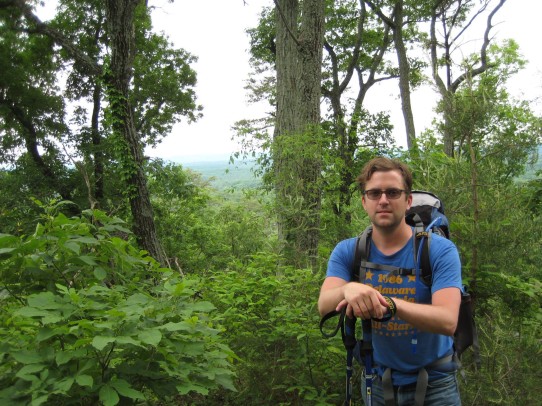 Here's a little background on the Knobstone Trail:The Knobstone Trail (KT) runs from Deam Lake to Delaney Park. The KT passes through 42,000 acres of rugged forest throughout southern Indiana, and there are a total of 8 trailheads. For detailed information about each of them, check out the DNR website here.

The Knobstone Trail gets its name because it follows the Knobstone Escarpment, which is a knobby slope that runs from Norman Upland to Scottsburg.
The trail is restricted to foot traffic only due to damage and erosion issues, but many hikers will tell you there is a fair amount of damage from horses and ATVs.
A few handy details to remember about the trail:
Each mile on the trail is marked with a brown fiberglass mile marker. This is extremely helpful in setting daily goals and cross-referencing with your map.
The trail is marked using white hash marks on trees at around eye level. Some of these are old and can look like moss or mildew on trees, so make sure you look closely!
Parts of the trail are extremely rugged and steep. If you plan to do a through hike, you need to make sure you are in good shape.
Ticks are everywhere so bring plenty of spray and check yourself several times a day.
Water sources are scarce during dry summer months so you may need to cache water at different trailheads along the way. Just be sure you mark each container with your date of intended use.
Here's a bit about my experience doing the Knobstone Trail through hike:
We (me and a fellow hiker named Troy Dee) set out on Friday, May 23 of 2014 to start the hike at the Delaney Park Trailhead. We knew the loop in Delaney was closed, so we planned to go straight from Delaney Park to Spurgeon Hollow. Check the DNR's website to see if the loop opens back up before you start your hike.
We chose to park at the Delaney Park trailhead and have someone meet us at the end of the trail in 4 days to give us a lift back to the car. If you choose to park there you'll have to pay $4 to get into the park, but it's well worth it to have a fairly safe place to store a vehicle during your hike. Good news, they take credit cards so you won't have to worry about taking any cash.
We had mapped out an itinerary beforehand, and though we knew it would change frequently, it was nice to have something to use as a guide. Here's the bullet points of our itinerary and a description of what we actually accomplished each day.
Day 1 – Hike from Delaney Park Trailhead 14 miles to the Elk Creek trailhead.
*We actually made it around 11 miles to mile marker 34, but we had to stop because the perfect campsite was calling our names.
Day 2 – Hike 13 miles from our campsite at Elk Creek to the New Chapel trailhead
*We actually hiked 14 miles to mile marker 20 and found a sweet spot readymade for us on the creek.
Day 3 – Hike 13 miles from New Chapel trailhead to near the Jackson Road trailhead
*We actually kicked the trail's ass and made it all the way to the end! 22 miles!
Day 4 – Hike 7 miles from near Jackson Road trailhead to Deam Lake trailhead
*We'd already conquered the trail so we used day 4 to kick back, drink coffee, and rest our achy paws.
If you'd like a copy of our full Knobstone Trail itinerary, you can download it here. It may be helpful for you to plan out a through hike.
Now that you've seen our intentions and results, let's talk a bit about the details of the hike.
_____________________________________________________________________________________
Day 1 started out smoothly as we hiked the stretch from Delaney Park to Spurgeon Hollow. There were recent thunderstorms so the trail was sloppy in places, but other than that it was peachy.
Things didn't get sketchy until we were 10 miles into the hike. Around mile marker 37 the trail essentially disappeared because the area had been logged. This area was a total mess. We backtracked several times and wasted at least 2 hours sifting through the wreckage.
We eventually found our way and moved past mile marker 36 where we got turned around again. There was a spot on the trail that gave us the option to go both right and left. There were hash marks on trees on both sides so we had to leave it to instinct. We chose to go right because we thought going left would take us back to the mess we just made it through.
As it turns out, right was wrong. Lucky for us, we happened up some fellow hikers who were also running a little low in the orientation department. We were heading south, they were heading north, and between the mix of us we determined which way was right for us all. Moral of the story…miles 37-35 are very confusing and not well marked. Take your time looking for signs of other foot traffic and trekking pole marks. You're not likely to bump into other lost hikers like we did!
We walked another mile to marker 34 and found a gently used campsite made for two. We hung our hammocks, started a fire, and hunkered down for the night.
Here's our campsite for the first night: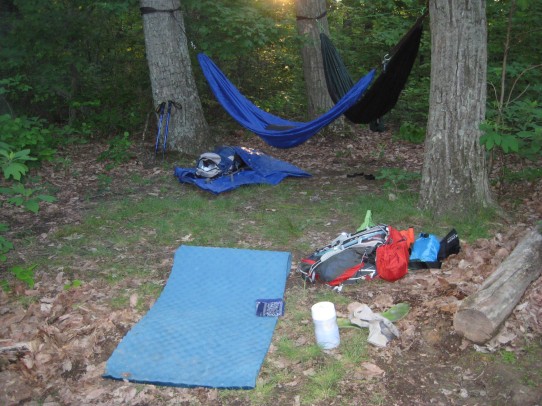 _____________________________________________________________________________________
Day 2 started around 8am with a quick breakfast and camp clean up.
Shortly after leaving we started noticing ticks everywhere. On our legs, our arms, our backs. EVERYWHERE. Be sure to bring good bug spray and use it often. Shake off and check for ticks periodically throughout the day too.
Just after mile marker 35 we crossed State Road 56. Shortly after crossing we made our way up a relatively steep slope onto what I call "power line valley." I call it this because it's a valley filled with power lines. The subtle buzzing was both interesting and creepy. If you can ignore the destruction of the forested area to make way for the power lines, you can take in a nice view both north and south of the area.
Along the way, I bumped into an old fried of mine. Mr. Turtle.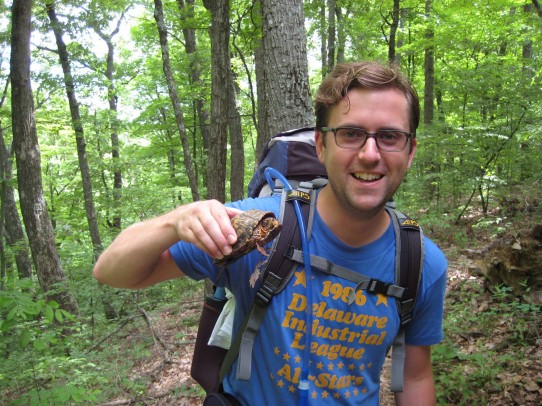 We had stashed a gallon of water at the Elk Creek trailhead, so we took a 10 minute break and filled up our hydration packs. After a few handfuls of trail mix, we decided to press on.
A few minutes later I bumped into another old friend, Mr. Butt Tree.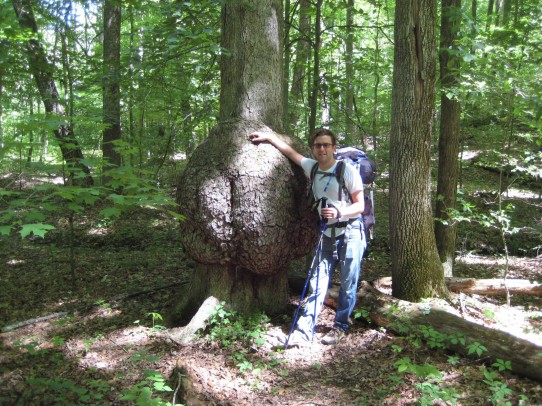 Elk Creek Lake is fairly small, but the trail winds around it for nearly 3 miles. It's a gradual incline, but nothing that will wear you out.
It's an easy walk along the ridge tops between Elk Creek and Leota. We made great time and ended up stopping for lunch around mile marker 26. After a 5 minute break and a 15 minute tick check, we made a primitive lunch and lounged around. We knew we were making good time, so we took an extended lunch of nearly 2 hours. Good golly, it felt nice.
After our luxuriously long lunch, we determined we needed to make it another 4 miles before we called it a day. That would put us around mile marker 22.
As it turned out, there weren't many places to camp in that stretch so we made it just past mile marker 21 before we setup camp. This stretch between mile markers 22 and 21 had severe ATV damage, and was particularly sloppy due to the rain.
We found a ready-made spot that still had a smoldering fire right by the creek bed. As if the creekside camping wasn't enough, this site also had the perfect trees for hanging our hammocks. Perfecto!
After 2 days of hiking, we were both feeling a bit gross so we decided it made sense to rinse off in the creek and put on some fresh duds. The water was somewhere around witches-tit degrees. Still, it was worth it to be semi-clean.
We stoked up a fire, smoked up a pipe (tobacco of course), and called it a night before it even had a chance to get dark. That's how it goes when you're on the trail!
Campsite 2: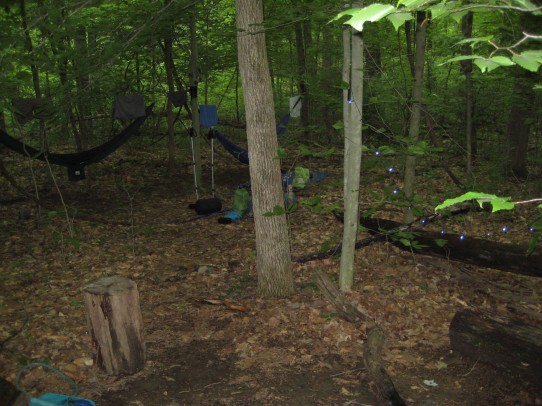 _____________________________________________________________________________________
Day 3 started early, much like day 2. We packed up our things and were on the trail by 8am. Our intentions were to make it to around the Jackson Road Trailhead, which would have been approximately 15 miles.
As we quickly found, the stretch of trail from miles 21 to 9 is fairly flat because it traverses a ridge top the majority of the way.
We had already completed over 13 miles by the time we stopped for lunch around 1:30, so we decided to reevaluate the day.
We knew there was a reroute of the trail around Deam lake, which would shave off around 2 miles of the hike. That meant we really only had 7-8 miles left to hike. We agreed we would leisurely hike until 5 or so and then finish it up the next day.
Seemed like a good plan, but by the time 5pm rolled around we only had 3.5 miles left to go. We decided to take the next campsite and then finish up early in the morning. As we were hiking the stretch between 6 and 5 we bumped into a couple of hikers. They had just started hiking from the Jackson Road Trailhead and were making their way to Deam Lake.
It's a good thing we bumped into them because they were heading north, which would have taken a long time to get them to Deam Lake. We pointed them in the right direction and headed on our way.
This run of the trail had been completely redone (as far as I can tell) due to tornado damage. Most of the trail between mile marker 7 and 4 was bare dirt with orange markers distinguishing the trail. We found our way through it fine, though.
As we approached mile marker 3 we decided to just hike through to our endpoint and have someone pick us up that evening. We only had 2 miles or so to finish and we were feeling (sort of ) good.
We blew past the Jackson Road Trailhead and continued toward Deam Lake.
Our intent was to take the trail to mile marker 2 and then head east on Reed Road. Whether my map was incorrect or we just made a mistake I'm not sure, but we definitely got turned around on this last leg of the trail. We ended up walking Bartle Knob Road to an unnamed gravel road and turning on it to head east.
Thanks to Google Maps, we eventually realized the unnamed road was Reed Road so we continued our hike down the gravelly path.
Eventually we came to a split in the road and continued northeast, which was still Reed Road. Although we did have to cross through private property to find a paved road, we did find our way just fine. Sorry for the trespassing horse farm guy, we meant no harm.
There you have it. We hiked the Knobstone Trail in 3 days, and lived to tell about it. Hiking the Knobstone trail was a great experience because we were able to see a part of the state that many never get to experience. The part that's not a big cornfield that is flat as a pancake.
If you ever have the opportunity, I highly recommend it. Just be sure to bring some bug spray, trekking poles, and an updated map!