How do you know a city is awesome? That's easy. If a city has cheap drinks, cats, and fortified walls, then it is awesome. No question about it. Kotor, Montenegro has all 3 and a whole hell of a lot more. We recently spent a day in Kotor and got to experience all 3 of these things in all their glory.
While staying in Dubrovnik, we planned a day trip to Kotor to check out the old city and perhaps spend a little time on the beach. We never made it to the beach because the old city had too much to do.
Here are a few facts about the city of Kotor:
It's located in the Bay of Kotor on the coast of the Adriatic Sea.
Current population is around 13,000 (excluding the mass amounts of tourists from cruises).
The city has been fortified since the early Middle Ages.
It was first mentioned in 168 BC.
Here's what we got into when we visited:
Lunch
As usual, lunch was the first thing on the agenda. We slipped up and stopped in the town just before Kotor thinking we were in the right place. No worries though, the food was as delicious as the views were and our waiter (who was ridiculously friendly) helped point us in the right direction.
Shopping
There's no shortage of souvenir shops in Kotor. Want a hat or some handmade jewelry? You've come to the right place. You'll notice right away that many of the shops are selling items with cats on them. There's a good reason for that. Kotor is known for its stray cats. Rather than hiding the issue, they've decided to embrace it. There's even a gift shop dedicated to the cats of Kotor, which is where we did our shopping of course!.
Drinks
Just across the way from the Cats of Kotor shop, there's a little cafe with a pretty serious cocktail bar. We stopped in and ordered their signature mojito, which is made with prosecco instead of simple syrup. Cold, sweet, and powerful, just how a mojito should be.
Climbing the Walls
When you arrive in Kotor you'll notice the city walls right away. The walls and stairs zig-zag their way up St. John mountain in a very confusing pattern. They are much less confusing once you starting climbing them. We paid 3 euro to get in at the wall's main entrance, where the attendant told us it would take at least 45 minutes up and 45 minutes down. Had he mentioned there would be a beer vendor half way up, we could have done it in half the time.
The walls start out easy enough…but then they get steep!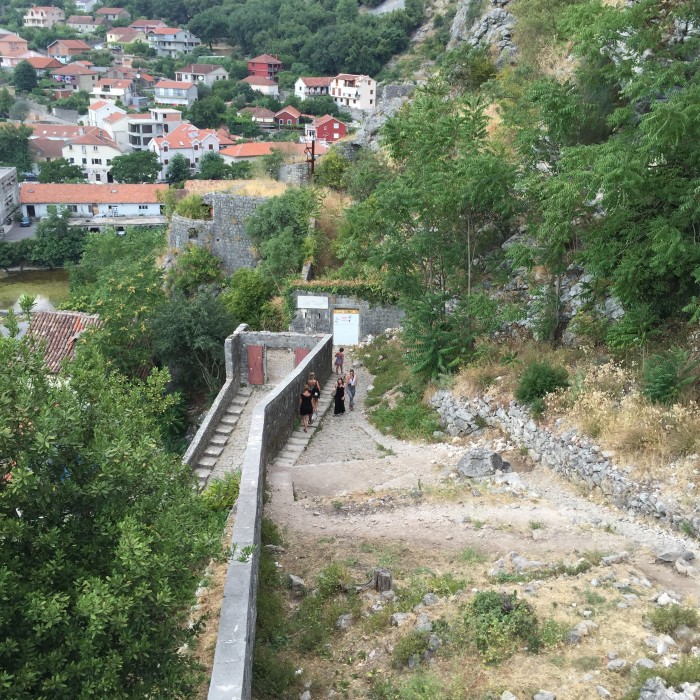 The stairs are tough, but the further you climb, the better the view. Keep hiking!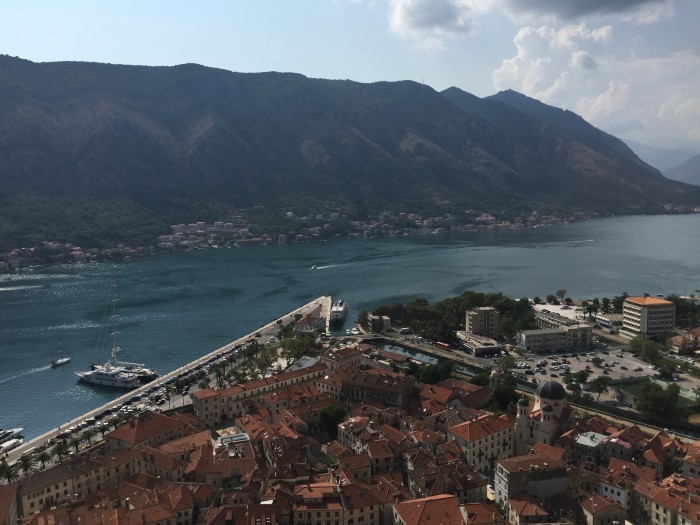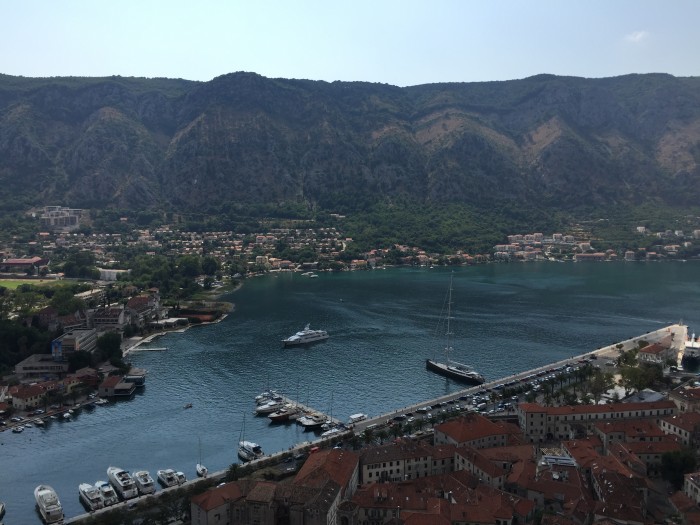 About half way up you'll find a church with handmade souvenirs and bottled water. Definitely get a water, if not a bracelet.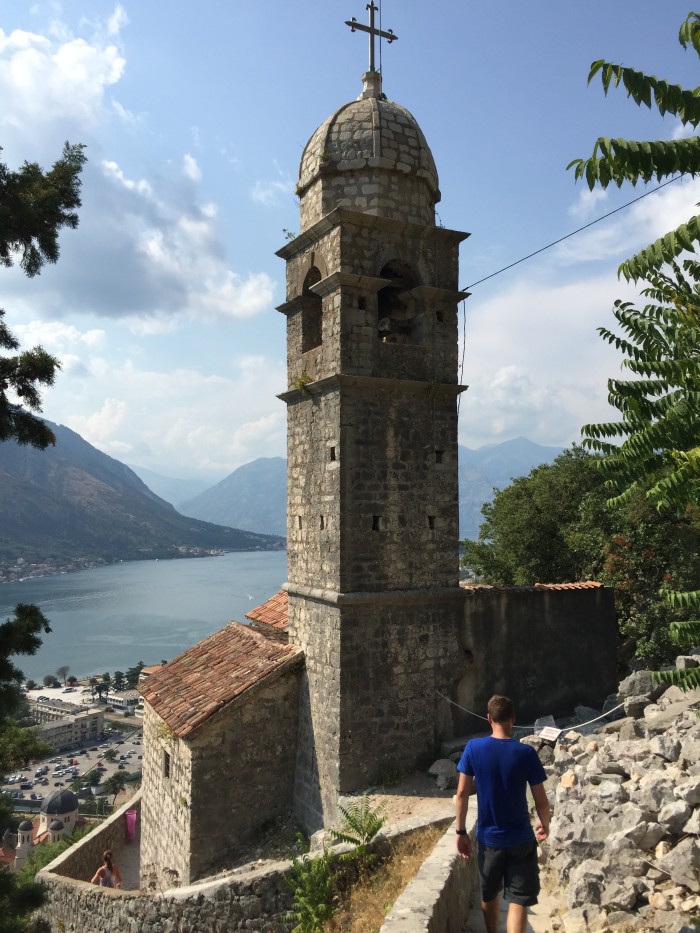 When you finally reach the top you'll be tired, sweaty, and ready to sit down for a rest. Much like I am…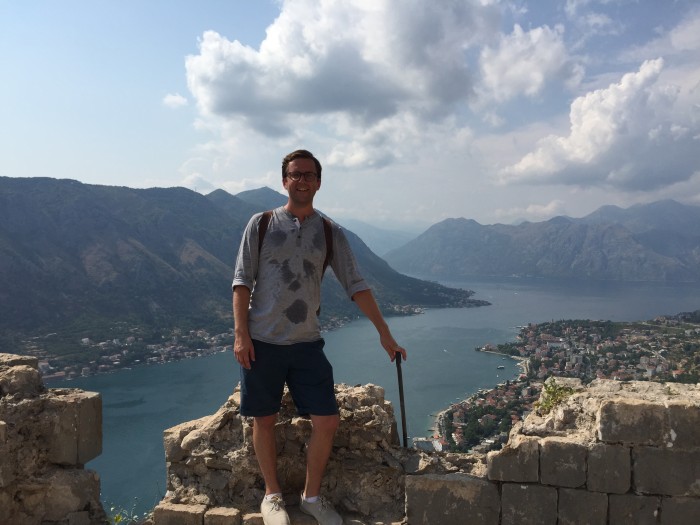 Here are a few more shots from the top of the fortified walls: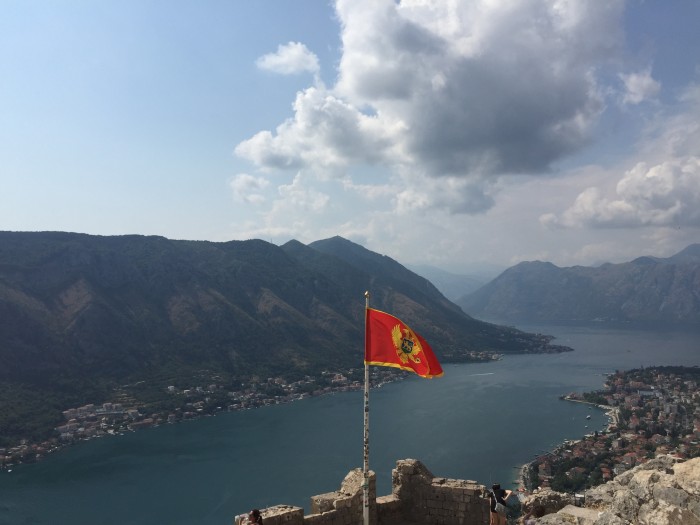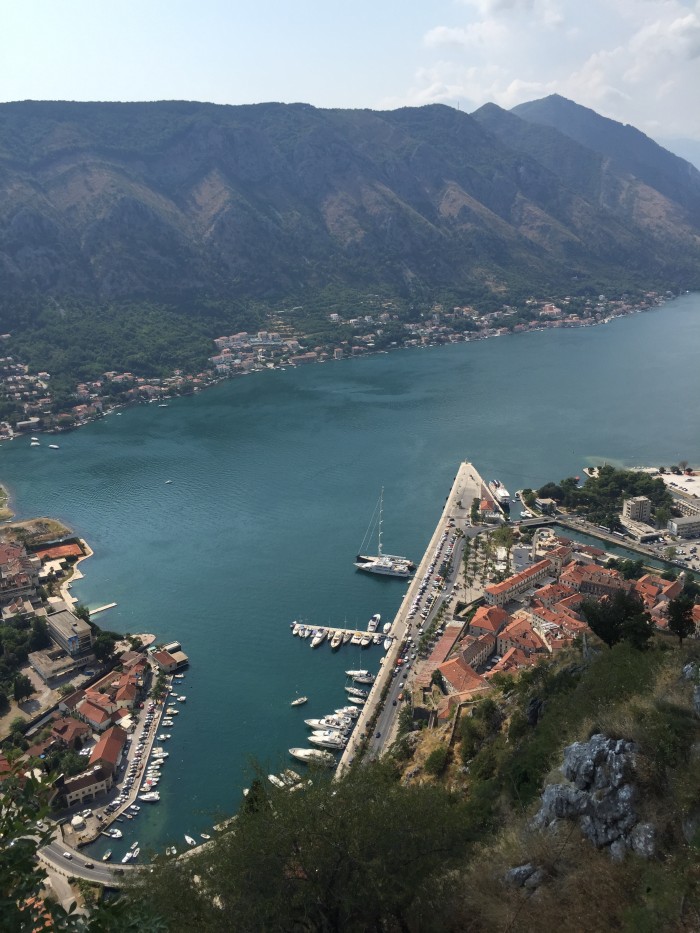 Have you been to Kotor, Montenegro? What was your favorite part of this coastal town?