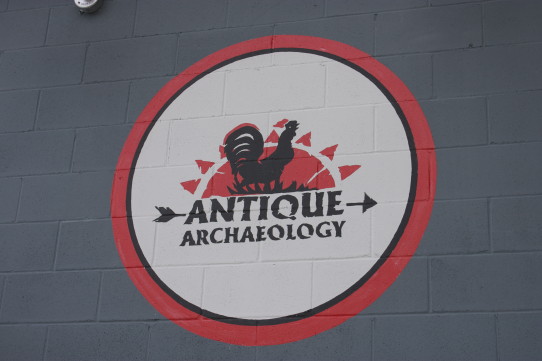 We pass through the tiny river town of LeClaire, IA every year on our Cross Country Road Trip. The last two years we've stopped in at Antique Archaeology to check in on our favorite pickers. Sadly…Mike, Frank, and Danielle never seem to be home. We assume they're out on the road somewhere pickin' the living daylights out of some sweet farmer's goldmine. These cats know what they are doing, so we don't get too upset when they aren't around. Besides, they have hired some nice folks to manage the store while they are away.

On our trip in 2012 the store was closed by the time we arrived. Luckily it was still light out enough to browse the parking lot, which is packed full of treasures from around the country. Like this funny little truck you might see Mike Wolfe driving around from time to time.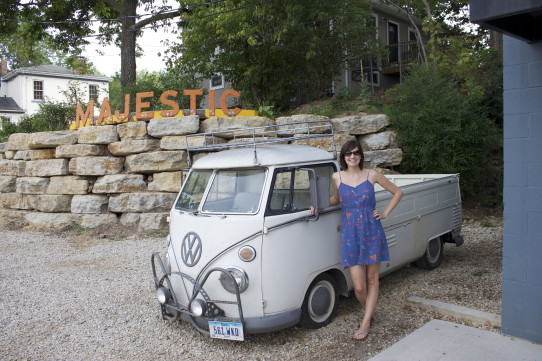 There's really all sorts of fun stuff to look at outside. You can spend a fair amount of time just browsing the parking lot. You'll find some old signage, old cars, and even a giant mask. See for yourself…
If you show up when the shop is open, it's worth the time to stop inside and see what's going on. They have collected all kinds of gadgets and keepsakes. Of course, they also have plenty of Antique Archaeology branded goodies to pick up too. Here's a snapshot of what we saw inside. The flag sign was especially fun!
Although we loved browsing the shop and rooting around through the goodies, we can never stay long. After a few minutes we have to get back on the road. After Antique Archaeology, we have to speed toward the Badlands National Park and usually spend the night in Omaha or West Des Moines.
Have you ever visited Antique Archaeology? What's your favorite pick!?