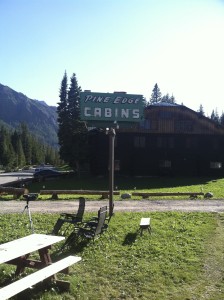 We can't prove it, but we think Belinda Carlisle was singing about Silver Gate Montana when she released Heaven Is A Place On Earth. She obviously knew about the quaint little town and all its friendly locals, charming restaurants, and beautiful wilderness. Right? What the hell else could she have been singing about?
Although we had visited Yellowstone National Park before, we had never stayed outside of the park in Montana. In years past, we had less time to spend at the park and it made sense to stay within its boundaries. Since this year we had roughly 3 days to commit to this destination, we thought we'd save a little money and stay outside the park. Before we left home we booked a cabin at Whispering Pines from Pine Edge Cabins. It looked rustic but clean with all the basic amenities we'd need and it is located about 5 minutes from the park's northeastern entrance.
This sign sums up the experience at these cabins. We can't emphasize enough how friendly and knowledgeable we found the staff to be. Without prompting, one of the owners helped us plan our time in the park. He took into consideration that this was our 4th visit and let us in on some lesser known spots and hikes. Since the owner knew we were highly interested in spotting wildlife, he explained in detail the best places and times to do so. He was also willing to give us candid descriptions of the nearby restaurants and helped us figure out where we'd be grabbing our meals. To put it plainly, he knew his stuff! He even provided us with a couple written guides at no charge. Good thing too, since we'd never have remembered all the detailed information he'd given us otherwise.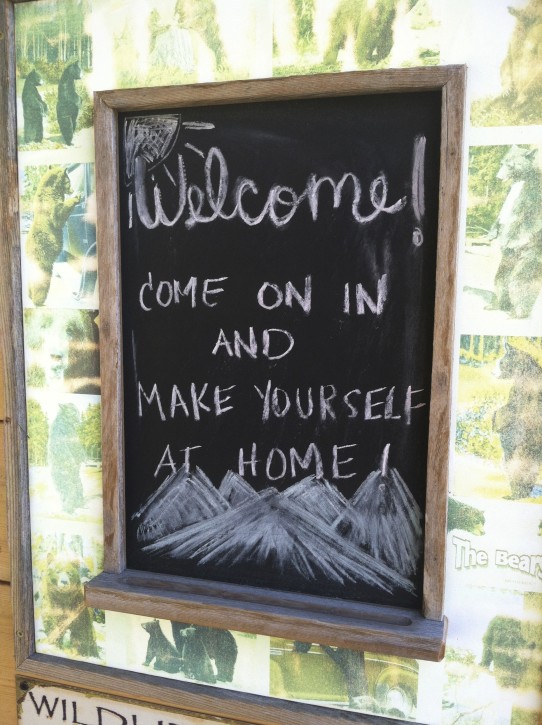 Just outside of the main office you'll see a spotting scope set up, just waiting for you to peer up at the mountains. Chances are it's already zoomed and focused on some bighorn sheep so take a gander. After we spent some time looking through the scope and talking with the owner, we decided it would be nice to rent one for our stay. You can rent them by the day and they even provide cameras that attach them. These scopes are extremely powerful and if you are serious about spotting wildlife, this is the way to go.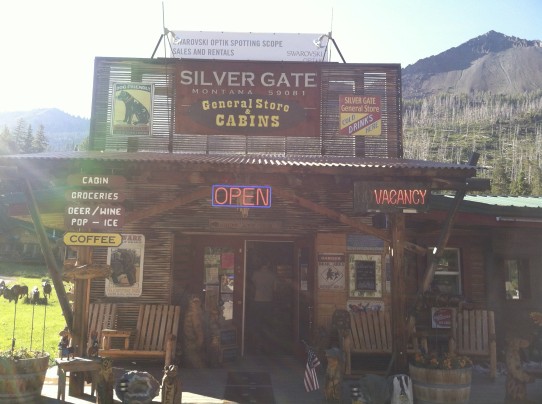 After talking with the staff and picking up some essentials, we headed on over to Whispering Pines 4 to unload our things.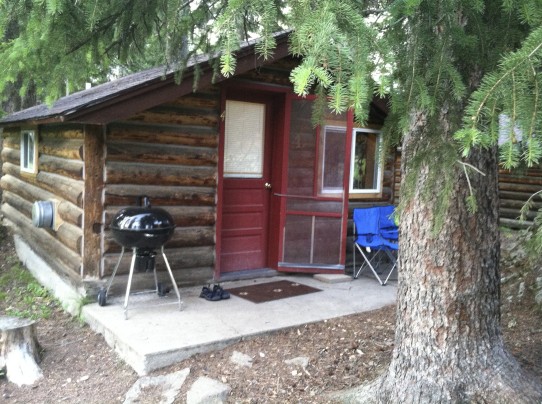 Mark felt a bit blurry, but extremely happy about the cabin.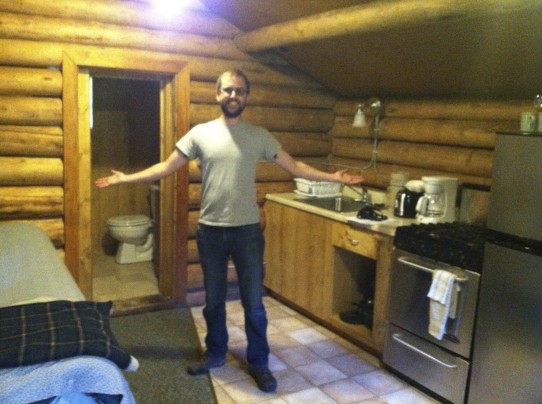 Here's a 1 minute review of our Silver Gate Cabin. Notice the uncontrollable smile on Mark's face. He's so overwhelmed to be back in bear territory.
Per our gracious host's recommendation, we decided to grab some dinner at Miner's Saloon. This mountain town bar can do much more than serve cold beer (although they do that very well too!). They offer an extensive food menu with something for everyone. The staff was friendly and helpful (hmmm…we're starting to see a pattern here with the townsfolk) when choosing beers and food. We decided on a couple of sandwiches and these deep-fried cheese things. The cheese things are worth the trip to rural Montana. Not kidding.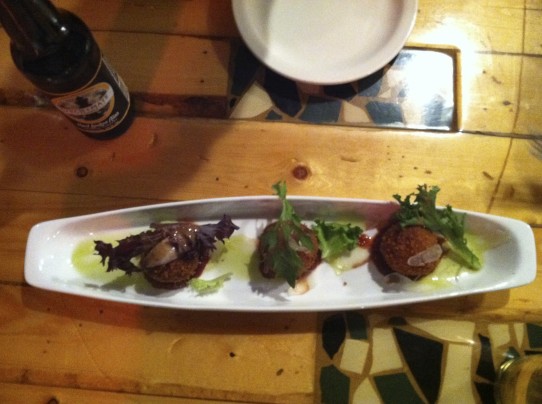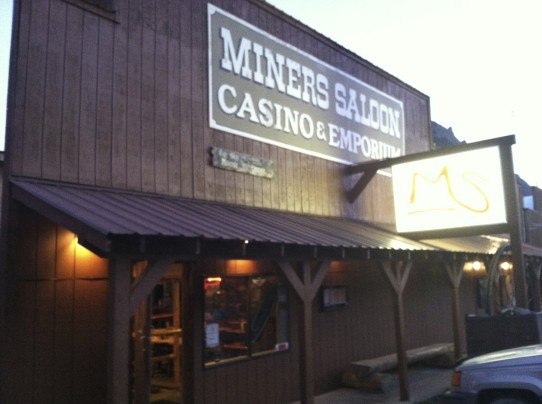 As if the food and beer weren't enough, Paul Simon's Late in the Evening came on the jukebox. Mark's heart immediately exploded in a sudden burst of happiness. The bar's big furry dog wandered around from table to table getting petted (it wasn't as unsanitary as it sounds) so Christy's heart was pretty content too.
After dinner we headed back to the cabin. Earlier when we checked in the owners mentioned they and several of the townies have a bonfire at 10pm each night. Knowing that, Mark couldn't resist a chance to head up to the office and share a couple beers with them. Christy hung around the cabin and enjoyed her book and Mark made some fast friends around the fire. He talked with the owners, a motorcyclist making his way up to Canada, and a fisherman who talked proudly about his catches…but never would reveal his top secret spot.
The owner had told us that our best chance of spotting grizzlies and wolves was to head into the park around 4:30 am and look for the wildlife researchers. He told us we'd be able to spot them because of the crowd and the antennas they carry around. We still weren't really sure what we were looking for but as we drove through Lamar Valley, it was obvious when we came upon them. And thank goodness we did because with their help and our trusty spotting scope, we got to follow the Lamar Canyon wolf pack heading up their trails for about 20 minutes. Unfortunately, we goofed and forgot the camera in the car. In our defense, we had gotten up at 4 in the morning and were just a wee bit tired! We did snap a few photos with a phone so you can see what the area looks like.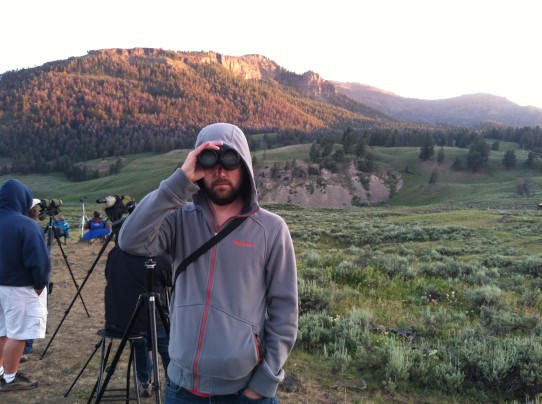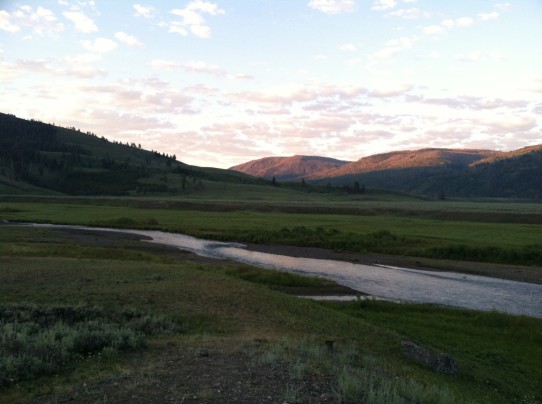 Although we were tempted to head back to the Miner's Saloon for another meal and a few more beers that night, we decided to make some dinner at the cabin. We built a fire just before dark and sat around talking well into the night.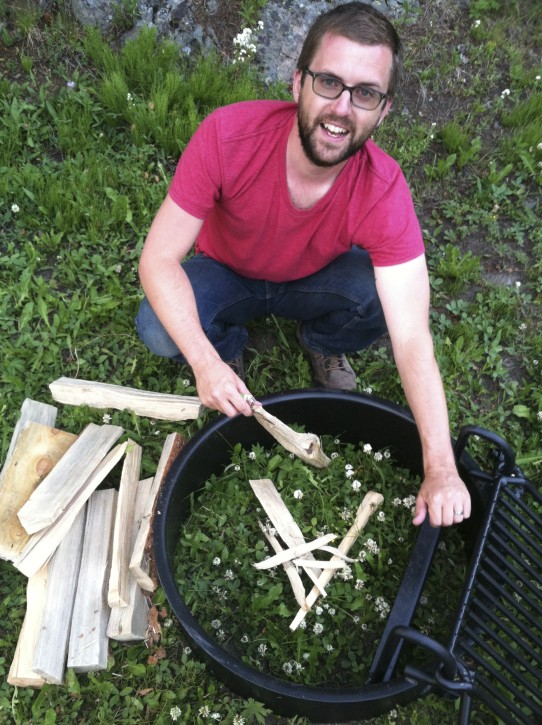 The next morning we went to the Log Cabin Cafe for a mountain breakfast, another recommendation of our cabin hosts.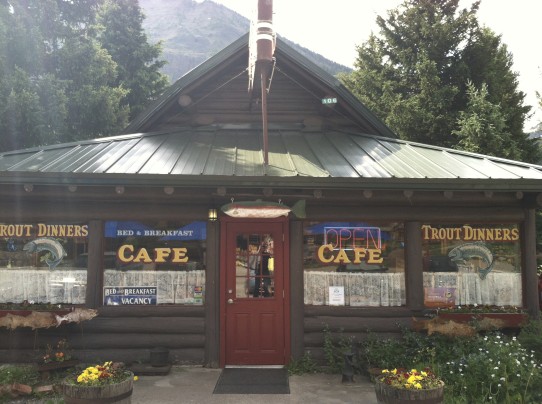 Never had trout for breakfast? Go ahead and stop considering yourself a man. After you've eaten an entire fish, potatoes, and eggs at 6am, then you can resume your claim to manhood.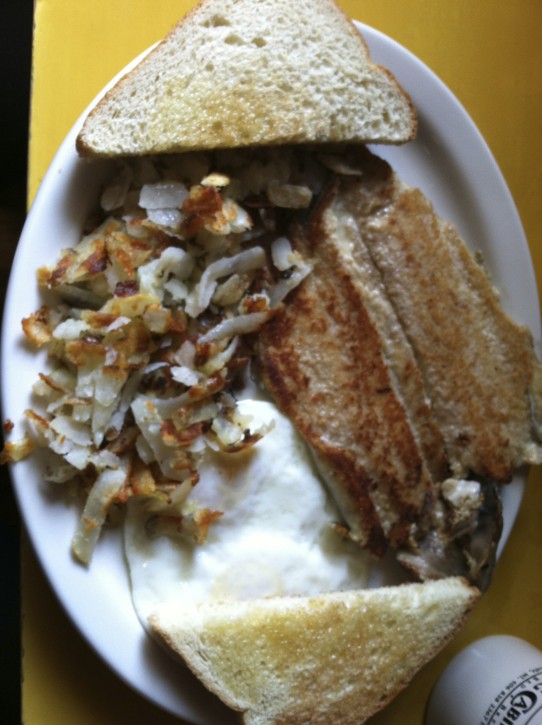 Christy's not a man at all and has never claimed to be, so she settled for fresh fruit and oatmeal. Less masculine, but delicious just the same.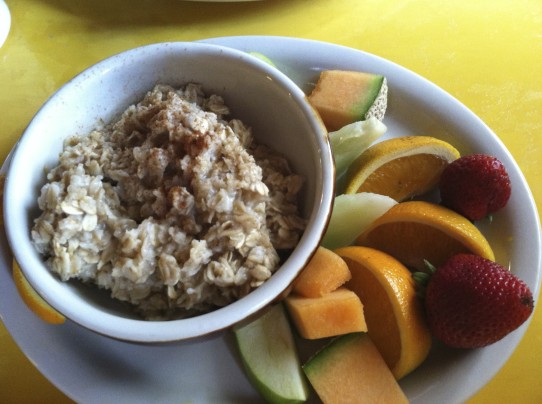 We only tried the breakfast at the Log Cabin Cafe, but we'd recommend it. The food couldn't have be fresher and the coffee was strong and abundant…just the way we like it!
As with all good things, our visit to Silver Gate Montana eventually had to come to an end. If you're planning a trip to Yellowstone National Park, we certainly recommend staying here. Book your cabin with Pine Edge Cabins, talk with the locals, and for god's sake get the cheese ball things from Miner's Saloon. Happy traveling!