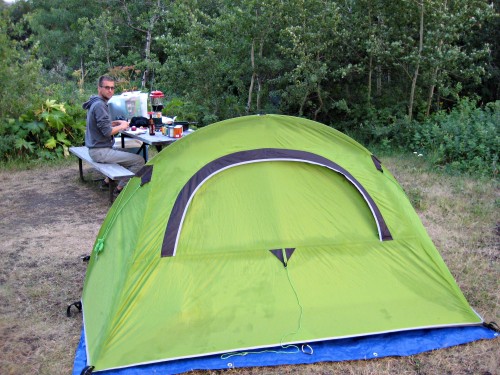 Let's face it, we campers put a serious burden on our gear, especially camping essentials like tents. Tents take a beating and often get slept in hard and put away wet, but if you want your tent to last you'll have to give it some TLC from time to time. I recommend unpacking once a year to make tent repairs and get it ready for a season of adventure.
Here's a tent repair checklist to follow to make sure your tent is always in tip-top shape:
Turn the tent inside out to clear all dirt and debris that may be left over from the previous season.

Unpack your tent from its bag and check to make sure there is no mold or mildew. If you find any problems give it a gentle hand wash with non-detergent soap and a soft sponge.

Make sure you have all the stakes you need and replace lost or bent ones if necessary.

Check your tent for rips and make repairs using a tent repair kit.

Check to make sure the zippers work on all the windows and doors. The last thing you want is to find out the door doesn't open after you've set it up out on a trip.

Be sure you have all the tent poles necessary to setup your tent. If you have any that are damaged or bent, now is a good time to replace them.

Use a silicone sealant on all seams and around any repairs you made this year or in the past. I use the SNO-SEAL brand because it uses CO2 instead of highly flammable gases like Isobutane.
Here are a few tips to care for your tent while it's in use:
NEVER put your tent away wet. Mold and mildew work fast and they can be tough to remove.

Keep things organized. Make sure to pack tent poles and stakes in the appropriate bags.

Always use ALL of the stakes when you setup your tent. I learned this one the hard way. I thought I could get away with only staking the four main corners of my tent and during a storm on Antelope Island the tent blew away and bent the poles. Learn from my stupidity!

Always use your rain fly, especially if you are camping in a sunny area. UV rays can break down the nylon windows and doors very quickly.

Kick off your boots before you enter your tent. This will prevent you from tracking in dirt and prevent you from snagging and tearing the tent with your shoes.

Never set up your tent too close to a fire and NEVER bring fire into the tent!

Use the above checklist each year to make repairs and clean your tent.
Hopefully this will help you to get the most life out of your tent. What other tent repairs do you find yourself making each year? Please share in the comments section!