I recently did a through hike of the Knobstone Trail, which is a 58-mile stretch through southern Indiana. Although I don't necessarily want to, I keep my phone on me while I'm hiking and I needed a charging system I could take with me. I chose the +LIFEGUARD Mini 1 Portable Charger because it's super small, lightweight, and has a decent charging capacity.
Here are some specs about this portable charger (description via Amazon.com):
Portable cell phone charger has 3000 mAh capacity – Charge your device & still have juice left over – Can be recharged up to 800 times!
USB battery compatible with most makes and models like Samsung Galaxy Note & Nexus, iPhone 4S, 5S, 5C, 5, or 6, Nokia, HTC or Motorola smart phones
Lipstick-style power bank is so small (3.8 x 1 x 0.9 inches) it fits easily into a pocket, backpack, carryon luggage or purse for the ultimate in convenience and portability
Charge your phone to 100% in as little as 1.5 to 2.5 hours (depending on model) – When battery pack is fully-charged it charges iPhone 4/4S up to 160%, iPhone 5/5C/5S up to 140%, iPhone 6 up to 120% & iPhone 6+ up to 75% – Never miss a call again!
Features highly durable, impact-resistant, pink aluminum case – Includes 5.9 inch rapid charge, lightning cable – Meets or exceeds CE, ROHS & FCC highest quality workmanship standards
Here's what I've experienced while using this portable charger:
The pros
I use an iPhone 6 and have had great results using this charger. I've found that I can get 1 full charge plus another 50% or 60% with one cycle. I'm sure this differs depending on your device. The charger is easy to juice up. You just plug it into a USB port on your computer. A red light will come on while it's charging and it's ready when the light goes off. When you're charging a device you'll see a blue light, which goes off when the device is charged. Super simple!
The cons
Although this charger is very small, it's still pretty heavy. Nearly 3.5 ounces, which is a lot when you're hiking! Also, the cords are very small and I think it would be more convenient to have them attached to the battery or at least be in a case. The little cords would be easy to lose on a trip.
A few tips
Be sure to put your phone in airplane mode while charging. I've found it will charge your device much faster if you do. Use a rubber band to wrap cord around the charger when you're not using it. Losing a cord would be a major pain in the ass.
Need to pick up a +LIFEGUARD Mini 1 Portable Charger? Get one at a great price on Amazon: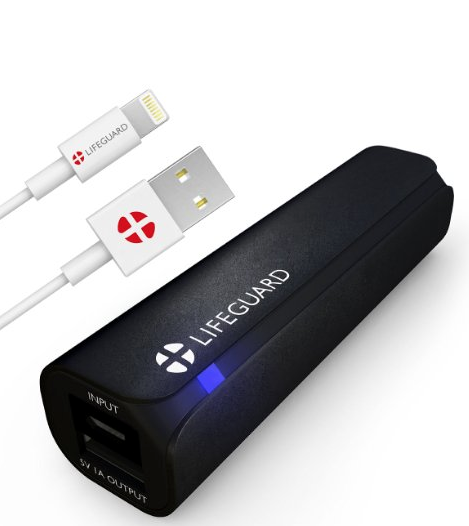 Here are a few photos of mine in action: